The Media Player Codec Pack supports almost every compression and file type used by modern video and audio files.
The package is simple to install, while also offering advanced settings to the high end user:For simple installation select "Easy Installation".
and For advanced installation options select "Expert Installation".
After installation you will be able to play 99.9% of files through your media player, along with XCD's, VCD's, SVCD's and DVD's. Also included in the package are a number of encoder codec's, allowing you to encode files in formats such as DivX. XviD, x264 and many more in your favourite encoding application.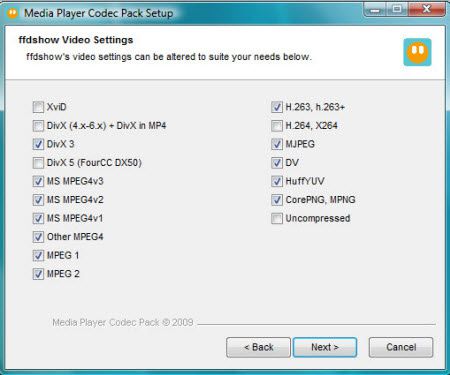 features:
* DivX v7.4 Pro Video Codec.
* DivX h.264 Video (Decoder) Codec.
* XviD v1.3 Video (Encoder) Codec - Koepi's 24/02/11 Build.
* ffdshow Video Codec 20110502 x86 Revision 3836 by clsid.
* ffdshow Video Codec 20110502 x64 Revision 3836 by clsid.
* Microsoft - Windows Media 9 Video Codec v9.0.1.369.
* Flash Video Splitter v1.2.908 x86 & x64.
* InterVideo Video Filter v7.0.27.191.
* CyberLink DVD Video/SP Filter v6.0.2.2806.
* AC3Filter v1.63b x86 & x64.
* AC3File v0.7b x86 & x64.
* Spdifer v0.3b x86 & x64.
* Lame MP3 v3.98.2 ACM Codec.
* DSP-worx Bass source filter v1.30.
Pros: The description seemed nice; It's free, but then so is the bubonic plague.
Cons: Didn't work (couldn't play MKV file);CPU/Video Card went into hyper drive;Cluttered Start Menu Folder